Vertical Crankshaft Replacement Engines
Click Image for more Information about this Engine Group
This series of engines are usually to be found on rotary lawnmowers, ride-on mowers, garden tractors, wheeled vacuums, poo pickers. They have also been used on a few models of rotovators and other equipment

They have their drive output crankshaft emerging vertically from the bottom of the engine on which is usually mounted a blade, drive pulley, fan or clutch.
A pull starter and/or a flywheel guard grill will be on the top of the engine.

The piston runs horizontally and the spark plug(s) will be located on the front of the engine.

Single cylinder, V Twin and Opposed(flat) Twin Vertical crankshaft engines have all been manufactured.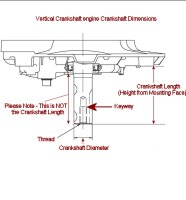 Vertical Engine Crankshaft Dimensions
To check crankshaft dimensions of a vertical crankshaft engine, place a straight edge against the end of the bare crankshaft (pulley or blade mount removed) and measure the height to the mounting face of the engine. The length of shaft emerging from the bottom of the engine is NOT the quoted length.

























































































The complete engine and 496606 short block for side valve engines who's model numbers begin with 28 are no longer available. The replacement engine would be the Intek 13HP OHV (see above for details). This engine is slightly different in its overall dimensions and the exhaust in on the opposite side so you would have to check it's suitability to the application.

The alternative if feasible would be to repair your original with new parts. Once stripped down and the parts requirement is known, you can have the parts priced using the illustration and enquiry steps on the page below.

Parts Lookup and Special Orders